Last Updated on October 22, 2021
When considering a new home, your foundation is an important thing to consider. While many builders continue to build with traditional poured concrete foundations, there are also home builders that instead opt for a more robust option; an ICF foundation.
What exactly is an ICF foundation? What are the pros and cons of building with an ICF foundation compared to a traditional poured concrete foundation? 
Let's dive in…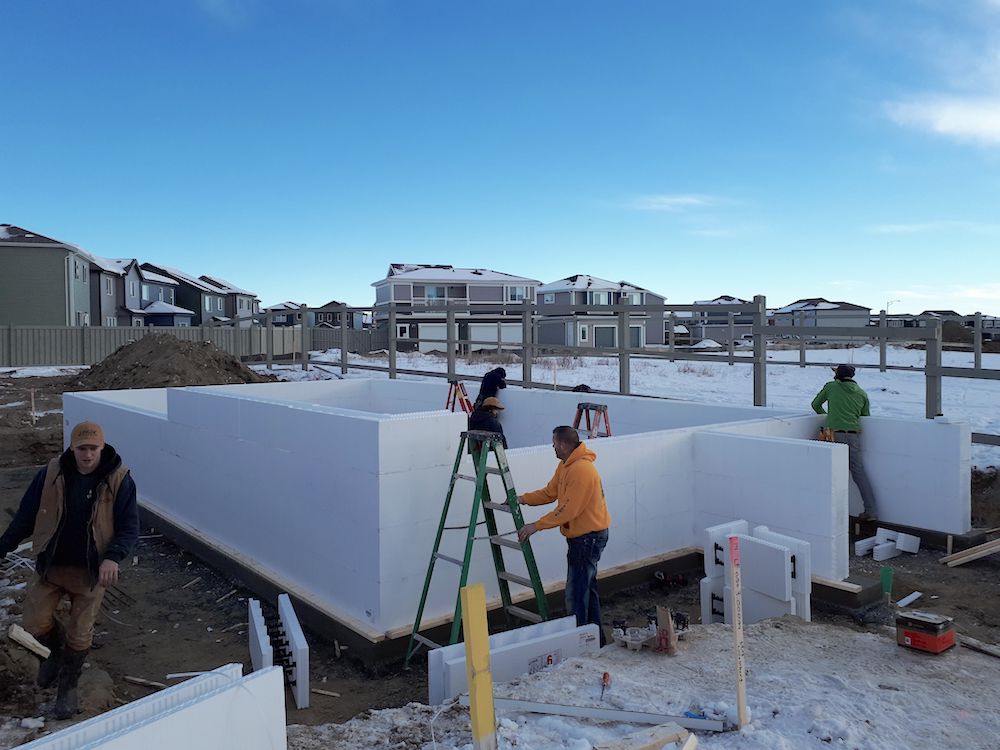 What is an ICF Foundation?
Insulated concrete form (ICF) is a way to lay a building's foundation using interlocking foam bricks. These hollow polystyrene walls are used to build the outside form of the foundation, and reinforcing rebar is placed inside within the form for added strength. Once the forms are all put in place, concrete is poured in the middle.
ICF foundations are unique in that the forms themselves become part of the foundation. While traditional concrete foundations are poured using plywood forms that are then removed, the polystyrene forms stick to the concrete, causing a built-in, permanent insulated layer.
What are the Pros of ICF Foundations?
There are many advantages to ICF foundations, especially in colder climates. ICF foundations offer more controlled, consistent insulation from cold and moisture, are stronger and more durable over time, and are more energy efficient than poured foundations. 
1) ICF Foundation Strength
ICF foundations use more rebar than traditional forming, making them far stronger. Rebar adds tension-resisting forces to the concrete, reinforcing the overall strength of the structure.
Concrete holds up incredibly well against compressive force, but is relatively weak regarding tensile force, which is where extra rebar comes in handy. It doesn't change the strength of the concrete, but makes the foundation stronger as it is able to withstand multiple kinds of force.
2) ICF Foundation Durability
When it comes to durability, ICF has you covered. Because the forms themselves are made of a permanent insulation, you are not at risk of your insulation falling out, being forgotten, or only being partially put in place. ICF foundations completely surround your concrete with insulation. The extra insulation prevents cold from moving through the concrete as quickly as a traditional poured concrete foundation. This prevents frost from forming on the inside of the concrete wall and saves you from water damage when seasons change and this frost starts to melt.
The Lincolnberg Advantage:
At Lincolnberg, we cover the inside of our ICF foundations with drywall for an added layer of protection. Traditional foundations are usually only covered with a thin layer of polyethylene (plastic sheeting).
We then cover the exterior with a membrane that wicks away moisture and ensures that dirt never touches the foundation. Keeping dirt away from the foundation protects it from mould, decay, and any leaking. This is an extra step that many builders do not take because it is more expensive, but we feel is important in Alberta's cold climate.
3) Advanced Energy Efficiency
ICF foundations can actually save you money on your energy bills! According to our supplier, the general consensus is that ICF homes require 32% less energy to cool and 44% less energy to heat than traditional homes.
Because ICF foundations are so meticulously constructed, there is not a lot of air that escapes. Traditional foundations are not very consistent with their insulation and often have gaps where heat is lost, making it harder to regulate the temperature. An ICF foundation is your best bet if you don't want to spend money constantly re-adjusting the temperature.
4) Increased Comfort
If you plan on having a finished basement or basement suite, an ICF foundation will make a world of difference!
ICF foundations offer a warmer, drier, more comfortable living experience for basement tenants. Because they are moisture and mould resistant, air quality is increased in an ICF basement. This type of foundation also helps to absorb and release thermal energy throughout the day, which helps keep room temperature stable.
ICF foundations are also great at reducing noise transmission to keep your basement quieter.
What are the Cons of ICF Foundations?
There aren't many negatives to ICF foundation, but one is that the installation is a little trickier.
When it comes to installation, the cribbers must be mindful to be extra careful that there is enough bracing on and around all the forms. If the cribbers don't watch the forms carefully enough, there can be blowouts where concrete spills out of the forms. This negates the purpose of a surrounding layer of insulation. That's why Lincolnberg sites ensure that all the forms are properly braced before any concrete pours.
The other reason why many builders aren't including ICF foundations is that they can be more costly to build.
How Much do ICF Foundations Cost?
Cost can often be an issue when it comes to choosing between ICF foundations or traditional. Some builders have been known to charge upwards of five thousand dollars to pour foundations using ICF. However, Lincolnberg Homes uses our own skilled employees to do this work, bringing the cost down. This is why ICF foundation is included in the price of all single-family homes!
ICF vs Traditional Foundations – What is the Difference?
The main difference between ICF foundations and traditional ones is that for ICF the forms become a permanent fixture for the structure (because they are made of a hard, polystyrene insulation) and traditional foundations are made with plywood forms that are then removed, and insulation is added to the interior facing wall after the concrete has cured. Other differences include more rebar being used in ICF foundations to improve tensile strength, and more protection from the elements.
Insulated concrete forms keep the concrete from freezing which protects the concrete from frost and moisture, so there is less risk of rot and mould. There are far more benefits to ICF foundations than drawbacks, especially when you live in a cold climate like Alberta. You get more strength, more durability, and, best of all, when you choose Lincolnberg Master Builders you get an ICF foundation with every single-family home at no extra cost to you!
Choosing your foundation style is easy when you work with Lincolnberg, because they choose quality and longevity when they use an ICF foundation.
View Lincolnberg Homes with ICF Foundations in These Communities
VIEW OUR HOME MODELS WITH ICF FOUNDATIONS
Laned Homes, or Front Attached Garage Homes
More On Buying A Home
How To Save Money For A Down Payment On A House In Canada
7+ Surprising Tips I Wish I Knew As A First-Time Home Buyer
Lincolnberg Master Builder has been building new Edmonton homes for over 41+ years. Learn more about us, visit one of our Edmonton and area show homes or explore quick possession homes today.