Last Updated on July 14, 2021
What is the difference between a Townhouse and a Duplex?
Townhomes and Duplexes (or semi-detached homes) are both multi-family housing options that can work well for families who want to save money on a home and don't mind sharing walls.
The term townhouse is used to describe a number of different attached home styles that can really vary pretty widely from home to home. There are a number of styles of townhouses including townhomes with front driveways, townhomes with rear driveways, carriage style townhomes as well as what is sometimes referred to as row housing.
Duplexes are two dwellings joined by a party wall and can have either attached or detached garages, and often have yards that are split by fencing.
Related: Duplex (Semi-Detached Home) vs. Single Family Home: Which One's Right For Your Family?
Townhouse vs. Duplex (Semi-Detached Home): The Key Differences: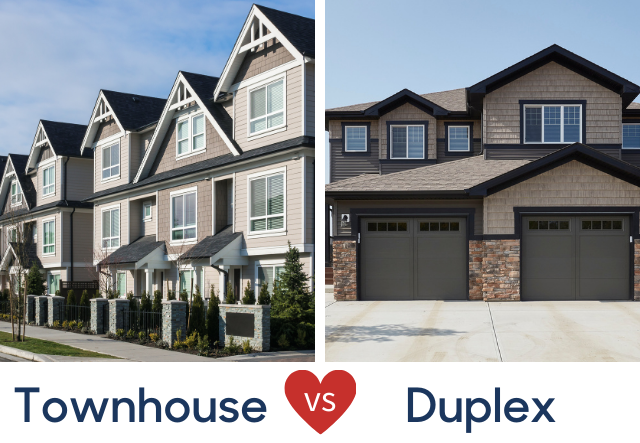 1) Number of Shared Walls
Townhomes are multi-family housing complexes and can include 3, 4 or 5 units in a row, or 4 units stacked with 2 units on the top floor and 2 units on the main floor. Many units will share a wall on either side.
Duplexes only have two connected homes, so both duplex owners own half the home and only share one wall.
A higher number of shared walls can lead to a higher noise level. Shared walls can also mean less natural light, as windows can only be located on external walls. The trade off for this is typically a lower cost, especially for interior units.
Well-constructed party (shared) walls can help reduce noise and smells between homes. A good builder should be aware of the importance of a multi-layer party wall for your comfort.
2) Condo Fees & Home Owners Association Fees
Can't quite decide whether a townhome or condo is right for you? Condo fees, or HOA fees, are often a key factor for home buyers to consider.
Because there are a number of people or families living in the same structure, townhomes often include some type of governing board to oversee the operations and upkeep of the grounds and buildings.
In order to maintain things like the townhome's roofing, grassy and landscaped areas and snow management and removal, a fee is often collected. These costs are typically called condo, or HOA fees. Many homeowners enjoy the freedom of having these things managed for them, but they can be tough to manage on a strict budget.
Duplexes, on the other hand, do not usually include any such fees.
Because there are only two homeowners involved, key decisions and spends such as replacing roofing are made more easily and do not require a board.
In either case, HOA fees can also be imposed by the community or developer of an area, so you may want to ask your builder about this during your search for the perfect community.
3) Size
Most commonly, townhomes in Edmonton will range from 1000 – 1400 sq ft, making them great starter homes for young families. Garage and yard space can also be more difficult to come by in townhouses, but it is common to find models with at least single attached garages.
Duplexes, on the other hand, offer homeowners a bit more space and are usually around 1200 – 1800 sq ft. Duplex homes can have single or double garages and share a divided yard with one other household. Duplex homes like ours have dividers between deck space and fully fenced yards to offer privacy and freedom.
4) Price
Townhomes can be priced from the high 200ks to the mid 300ks, so they are definitely the more economical choice when building your first home. Duplexes, on the other hand, tend to start in the high 300ks price range. Prices depend on a number of factors, including location, lot, attached or detached garage, etc. 
5) Privacy
Both Townhomes and Duplexes offer more privacy than apartment buildings and condos, as you are not boxed by neighbours.
Duplexes do offer slightly more privacy because you are only attached to one home on one side, while townhomes are multiple homes connected to one another. You will typically notice you duplex neighbours less frequently than you would in a townhome. 
Both home types can offer adequate privacy if they are well constructed with a sound party wall.
Related: 7+ Surprising Tips I Wish I Knew As A First-Time Home Buyer
6) Exterior
Are you the DIY type? Do you think you'll want to make changes to the exterior of your home, such as swapping the paint colour? You may find that you have slightly more freedom in a duplex than townhome.
The exterior styling of your home might be maintained by the community's style guidelines, but cooperating with your adjoining neighbour might let you make small changes.
Townhomes, on the other hand, do not allow for exterior cosmetic changes. Owners cannot make architectural changes or aesthetic decisions at all in most cases. This helps to create cohesive curb appeal, but may squelch your artistic vision.
7) Yard
Is having a spacious outdoor space for the kids or furry friends to run around important to you? Perhaps you've got a green thumb. If having your own outdoor space is a priority, a duplex may be the right fit for you.
Townhouses usually include a small grassy area in the front or back of the home, but it usually isn't bigger than a few feet across in each direction. You can find models with yards in some areas, but they will have a higher price tag. Townhouse gardeners should be willing to get creative with how they grow their crops.
Duplexes, on the other hand, typically have a larger and more private yard. This area is usually yours to change, and offers freedom and flexibility. It is easier to live a separate lifestyle in a Duplex home and feel like you have your own space.
8) Maintenance
Basic exterior maintenance such as shoveling snow and cutting grass is left up to duplex homeowners, whereas those living in townhomes usually don't have to worry about grounds maintenance, as it's taken care of and paid for with condo or HOA fees.
This can mean that townhouse homeowners have less burden and worry. People who enjoy travelling abroad seasonally often choose townhouses for this reason, as they will not need to hire a service to help out.
More On Buying A Home
Should I Rent or Buy a House? [Edmonton]
21+ Important Questions To Ask Your Home Builder
Lincolnberg Master Builder has been building new Edmonton homes for over 41+ years. Learn more about us, visit one of our Edmonton and area show homes or explore quick possession homes today.