Last Updated on August 3, 2021
What To Know Before Building A House In Edmonton

Building a new home will be one of the most exciting and memorable moments of your life. It can also be stressful if you don't do your homework! Here are three things to think about before you get into the building process:
What are your expectations?
How much time do you have to commit to the building process? The answer to this question will determine your path. You can choose a custom-built home or an existing floor plan with customizable features. Going the custom-built route will take much more of your time and energy.
Where do you want to live?
If you are considering the suburbs there are many mid to large volume builders who can help you out, including Lincolnberg Master Builder. If you are thinking about building in an older, established community, you will have a different set of builders to choose from, most of which are smaller volume, custom builders. Infill homes will come with a higher price tag for a smaller property.
Who will you choose to build your home?
It is a great idea to ask your friends and family who they've built with and what their experience was like. Nothing beats a testimonial from someone you care about and respect, however, if you don't have any connections with recent building experience, you can always check out Customer Insight and Avid Ratings to see what builders are winning awards and providing the best customer experience. Also, when choosing your builder, make sure to find out if they allow you to pick the materials, features and finishes that you want in your home. Unlike Lincolnberg, many mid to large volume builders have curated colour boards and floor plans with little to no customization allowed. You can learn more about our awards and accolades here.
7 Factors To Consider Before Building Your Home
Wants, needs, and desires
Are you a mover and a shaker who is constantly out the door running to one thing or another? Maybe you're an extrovert who loves hosting friends and family for a weekly games night? Perhaps you're family-focused choosing to spend most of your free time with your loved ones? Understanding your values and how you live will help you determine the floor plan that is best suited for you and your family. For example, if you love to entertain and put the experiences of your guests first, you will want to consider plans that have a welcoming foyer, expansive entertainment room and an open, inviting kitchen completed with an island and extended eating bar.
Home direction
Consider which direction you want your backyard to be facing. A backyard that is facing North will get limited sunlight, but also keep rooms at the rear of the home cool and comfortable for sleeping. An East-facing backyard gets the morning light but will have plenty shade in the afternoon. A backyard that is facing South will get the most sunlight, so if you are a gardener this might be the best option for you. Finally, a West-facing backyard gets a lot of sunlight during the day and evening.
The building schedule is a guideline
It does not always stay on track. Generally, it takes 6-10 months to build a single-family home in Edmonton, however, many factors can derail this timeline. Delays in getting development permits from the City of Edmonton, supply issues, and extreme weather can add months to this timeline. It is important to have a contingency plan in case your build time is extended. You can learn more about how long it takes to build a house here.
Durability, maintenance, and convenience
We would be remiss if we didn't suggest thinking about how you will live in your home and what your aptitude is for maintenance. Do you plan to get a mid to large-sized family dog one day or have children? If so, you may want to consider a more durable flooring like luxury vinyl plank vs choosing hardwood, or a plan with laundry and a bonus room on the upper floor. Also, granite and quartz countertops are gorgeous in any kitchen, but granite requires maintenance because it needs to be sealed regularly, so if that's not up your alley, then go with quartz.
Your builder should be able to answer any questions you may have about the durability and longevity of finishes. Building a new home should give you the peace of mind that you won't have to worry about replacing items such as your furnace, singles, and HVAC system for the next 15-25 years.
Energy efficiency
Ask the builder what standard energy efficiency features are included and whether the home will exceed Alberta's energy code requirements by 15%. If so, you will qualify for a 15% rebate on your mortgage insurance premium (if you have put less than 20% down on your home and received your mortgage insurance through CMHC, GE Capital or Canada Guarantee). If your home will not reach the thresholds to achieve the rebate, ask the builder if they have any energy upgrade options to achieve this. It may be that your rebate will cover the cost of the upgrade, reducing your carbon footprint, and saving you money down the road!
You should also inquire as to whether they build their foundations using Insulated Concrete Forms.  An ICF foundation can reduce your home's heating costs up to 70 per cent versus a traditional foundation!
Finally, you will want to ask if the builder has a way of verifying the energy efficiency of their homes. Lincolnberg uses EnerGuide, the official mark of the Government of Canada for its energy performance rating.
Interest rates
Are interest rates trending up or down? If they are at historically low rates and, if you can afford it, it might make sense to add in those extras you want now rather than waiting for a rainy day in the future when financing them will cost more.
Plan for your future, not your now
You will want to consider how you use/will use the space and how many people or pets are living in it now versus in 5 or 10-years down the road. For example, a two bedroom + bonus room plan might seem like a great idea when you are a young couple but what if your family grows to a 4 or 5-person household in the next five years? Do you want to move again that soon? When you are thinking about now versus 5-years from now, consider the following spaces and how you currently/will utilize them:
The functionality of the front and rear entry spaces and storage
Your kitchen pantry, fridge size, cabinets, and drawers
Bedroom locations and shared bathrooms
Storage
17 Cool Things To Include When Building Your House
There are so many things you can do to up the cool factor of your new home. Here are some ideas and things to consider before building a new house in Edmonton.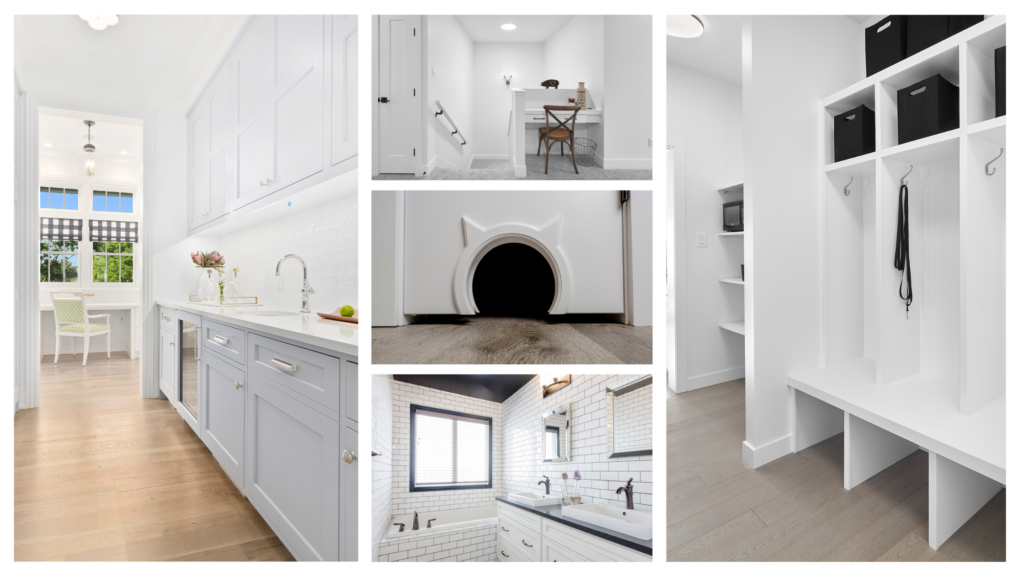 Walk-thru pantry with stand-up freezer.
Consider adding an outlet here so you can place your microwave on the pantry shelf!
Butler's pantry
This is the space next to the kitchen. Essentially, it's meant to ease entertaining by providing additional prep space and storage for small appliances, serveware and barware. You can add a wine cooler or a bar fridge, sink, an additional dishwasher… the sky's the limit!
A wet bath
A wet bath includes all the same elements of a regular bathroom but is finished so that all surfaces can get wet or damp. Tile is used on all floor and wall surfaces and the shower doesn't require any glass walls or curtains. This is a great option for families with young kids who love to splash in the tub!
A doggy wash station
Your fur baby won't thank you for the bath but you'll appreciate not having to clean up muddy pawprints after a rainy day hike!
A cat door or catio
a cat door allows your cat to easily get in and out of rooms when the door is closed. A Catio will give your cat freedom to explore the great outdoors anytime. If you haven't seen one, check it this local supplier here!
Independently controlled outdoor outlets.
Add these beneath eaves around the house for outdoor cameras or Christmas lights. You can wire them to switches in your home so that you can switch the lights on and off as needed – or put them on a smart home automation system!
Under-cabinet outlets
Keep your beautiful backsplash tile uninterrupted by outlets and instead install them beneath your upper cabinetry! Also, consider which devices and appliances require charging and consider adding outlets for added convenience. A good example would be adding an outlet to the broom closet for an electric vaccum.
Central Vacuum Automatic Dustpan
Better known as an under-cabinet vacuum system. This convenient addition allows you to sweep dirt, crumbs, and debris into the automated suction dustpan. Just use your foot to kick open the port and activate the suction, then sweep away!
Solatubes or sun tunnels
Bring extra natural light into darker spaces. Solatubes brighten closets, powder rooms or any space without a window.
Recessed outlets
Add a recessed outlet so that your bed, couch or television can sit flush against the wall.
Custom cabinetry, shelving, and storage
If you have crawl space under a staircase, add custom cabinetry for added storage, add a closet organizer, or add shelving and storage lockers to your mudroom.
A second hose bib for hot water.
Adding a hot water option to your hose bib will make kiddie pool time more tolerable for the little ones!
Home Automation
Control your home's temperature, access, lighting, and security with a tap or your voice using built-in smart home technology.
EV Charging Station in Garage
An EV charging station will significantly speed up the time it takes to charge your electric car.
Heated tile flooring
Makes the transition from your bedroom carpet to the bathroom more comfortable
Add detail to your ceiling
Add a tray or coffered ceiling, a vaulted ceiling, or you can add timber beams to evoke rustic charm!
Lighting
There are so many options when it comes to lighting. You can add lights to your stairs, under your bathroom or kitchen cabinets or above the headboard in your bedroom.
Frequently Asked Questions
How much does it cost to build a new home?
Most housing construction costs between $150 and $200 per square foot depending on the bells and whistles added. As for the cost of land, again this varies depending on the community, the lot features, the nearby amenities, and the type of home you are building. The lot cost is typically 30 to 40% of your total cost, with the higher end having features like a reverse pie-lot backing onto a trail, ravine, or pond. If you do the math, a 2,000 square foot home can start from $420 to $520k depending on the lot and you can easily spend up to $100,000 in features and finishes if you add a basement suite!
You can see how many variables are at play when building a home in Edmonton. Lincolnberg is transparent with all of our pricing from the outset. We share the starting price of all our models on our website including the lot, home, and GST.
What post-build costs should you budget for?
Landscaping – most builders will rough grade your lot to meet the grading plan approved by the municipality, but the landscaping is up to you. Make sure you set aside enough money so that you don't end up with your dream home on an unfinished lot. Many people budget 5-10 per cent of their home's value for landscaping, for a $500,000 home, that would be $25,000-$50,000. The higher-end price would include trees, shrubs, a deck, patio, firepit, shed and playset for the kids.
Window Treatments – There are many different window covering options available and just as many suppliers from budget to luxury. You can spend as little as $2,500-$5,000 from a budget supplier and up to $7,500-$12,500 for custom window coverings. It all depends on the product you choose, and the number and size of windows in your home.
Furniture – If you are fully furnishing your home you can spend anywhere from $20,000 up to $50,000 for high-end furniture.
Appliances – some builders include appliances in the cost of the home or give you a credit towards your appliance purchase. If you prefer a higher-end appliance, it will cost more but you can choose to add it to your financing.
Moving Costs – Professional movers charge between $80-$100 per hour.
Closing Costs – There are several closing costs you can learn about here. Make sure to talk to your builder as they may cover some of these costs.
What does working together look like and can you make changes?
Ask who you will be working with to select your finishes and how often you will meet. Large volume builders typically have a set amount of time allocated for each client and pre-determined site meetings. Lincolnberg gives all our clients the site superintendent's phone number, so you can reach out anytime during the build process. You may change your mind about something along the way, ask what the builder's policy is on change orders. Typically, there is an administration fee for changes.
You can never ask too many questions
Before choosing your builder, make sure you check out this blog: 21 questions to ask your builder before signing the contract.
Ready To Build Your New Home in Edmonton?
We would be honoured to partner with you and build you the home of your dreams! Take some time to peruse our website to see the communities we're currently building in and our available duplex, attached garage, and laned home models!