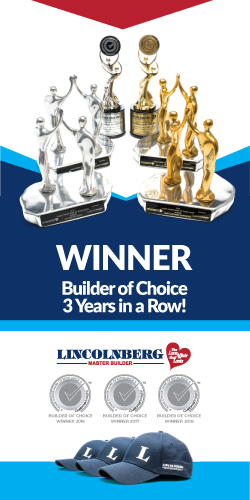 CustomerInsight™ gives out Home Owner Mark of Excellence (H.O.M.E.) awards each year to the Builders that perform the best in each market. Lincolnberg was just awarded the 2018 Builder of Choice HO.M.E. Award for Edmonton, in addition to a Best Customer Experience Award for the Edmonton Multi-Family Category. This repeated our results from 2017 when we won both of those categories. In 2016, when the awards format was slightly different we received the first Platinum Award for an Alberta builder and a Gold Award for Edmonton Single-Family Category. Lincolnberg Master Builder was also awarded the New Homebuyers' Choice Award in 2015 from the Canadian Homebuilders' Association – Edmonton Region. These awards – because they are based on real customer feedback - are considered the highest honour by our management.
We would like to thank our homeowners, staff, and trades for making this possible. We couldn't do it with you! You can find more information about the CustomerInsight™ H.O.M.E Awards on their website:
https://customerinsight.ca/CI/
Contact an Area Manager Below to see why we are Edmonton's Builder of Choice and to start your Love Affair That Lasts Today!