Last Updated on January 22, 2021
When it comes to selling your home, there's no doubt that it can be quite the adventure. From pricing your home right, to repairs and renovations, there are many things to consider. But what about those precious pets? Here's our round up of simple yet effective tips for selling a home with pets.

7+ Helpful Tips for Selling Your House When You Have Pets
1. Find a Sitter
For all kinds of reasons, it really is best if pets aren't in the home during showings.
The easiest—albeit also hardest—solution is to relocate the pet while your home is on the market. Relocating Fido for the short term will allow you to avoid worrying about last-minute tidy-ups and the constant struggle to clean pet hair off your floor before every viewing.
You may want to consider bringing Fido for an extended visit to Grandma and Grandpas or a to a neighbour you may be close with's home. Alternatively, if you simply can't live without your four-legged friend, try boarding your pet at a local kennel or dropping them off at doggy daycare. If your personal schedule is flexible, you could even plan a fun field trip to the dog park or pet store during the showing.
2. Enforce Scheduled Showings
When it comes to selling a house with pets, it goes without saying that scheduled showings are a must.
Typically, real estate agents have to give their clients fair warning before showing up with a potential buyer, and if they know you have a pet, they will likely give you an even broader timeframe.
You can even request that your agent only schedule viewings on certain days so that you're able to make arrangements well in advance.
Related: 7+ Surprising Tips I Wish I Knew As A First-Time Home Buyer
3. Talk To Your Vet
Selling your home can be a stressful ordeal. In fact, it continues to be one of the top three most stressful experiences any person can face in their lifetime.
If you're feeling waves of anxiety, panic, and worry, your dog or cat will tune in. Not only can they sense your stress, but they will start to notice the boxes piling up and all the things that they're used to seeing and smelling disappear.
Before you start loading your DVD collection into boxes, consult with your pet's vet. They may be able to give you some sage advice about minimizing your furry friend's stress while you prepare for your move. The more information you can gather, the better prepared you will be to help your pet.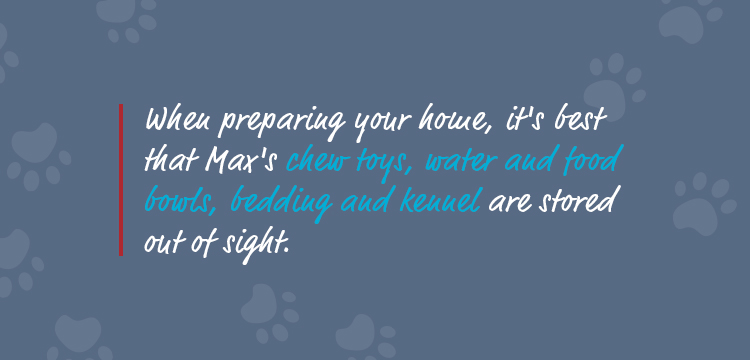 4. Eliminate Smells and Stains
Smells are strongly linked to memory and emotions, which is why so many real estate agents drop a batch of cookie dough in the oven right before an open house.
No matter how lovely and clean your home is, potential buyers won't be able to see the real value if they're hit with a whiff of litter box the moment they walk in the door.
Have stubborn pet stains treated professionally and stick to a strict schedule when it comes to changing your kitty litter.
Open the windows, give your walls and upholstery a good scrub and consider purchasing an essential oil diffuser to freshen things up.
Related: 7+ Practical Ways To Save For a Down Payment on a Home, Fast
5. Remove Signs of Your Pet
When it comes to selling your home, it's important for potential buyers to be able to picture themselves living there, so it's best to keep personal items to a minimum.
When preparing your home, it's usually best to store your DVDs away, remove family photos and roll up your kids' posters.
It goes without saying that Max's chew toys, water and food bowls, bedding and kennel should be out of sight as well.
6. Fix the Damage
Dogs scratch floors, eat furniture, have "accidents," gnaw on walls, and leave smudges on all the windows. Cats vomit on carpets, rip holes in upholstery, knock things off shelves, and chew wires.
Even the most well-behaved pets can leave behind a trail of destruction if their tails are strong enough or they get the zoomies.
Before you put your home on the market, give any damage a thorough inspection and try to see your house through a buyer's eyes.
Carpets are often the biggest offender when it comes to wear and tear from cats and dogs; have them professionally cleaned or consider replacing them all together. Cover torn-up furniture, re-varnish hardwood floors, wipe down walls and clean your windows.
It may cost money to make these repairs, but you'll likely get better offers, which will more than cover the cost.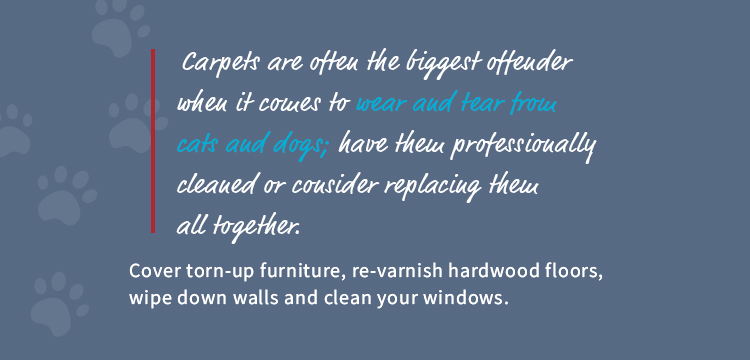 7. Freshen Up Your Yard
We say that one should never judge a book by its cover, but that's exactly what we do when we pull up to a home we're considering buying. In fact, "curb appeal" is exactly why homeowners spend hundreds and even thousands of dollars every year on their yard and home entrance.
But what about when we add our family's furry friend to the equation?
If you have a dog that loves to dig or tear up grass or uses the yard as their personal potty, spend a weekend afternoon repairing the spots.
Topping the areas up with fresh soil and grass seed will definitely do the trick, but it often takes about a month until the grass seeds grows to fill the area. If you're working with a shorter timeline, stop by your local landscaping centre and pick up a few squares of fresh sod to fill in the holes.
It should go without saying, but always be sure to pick up after your pet does their deed on the lawn.
More on Selling Your Home
Lincolnberg Master Builder has been proudly building Edmonton homes for over 41+ years. Learn more about our show homes or communities today.