Last Updated on January 25, 2021
Are you a first time home buyer considering buying your first home in Alberta? Today, we're sharing our most essential first time home buyer tips and advice.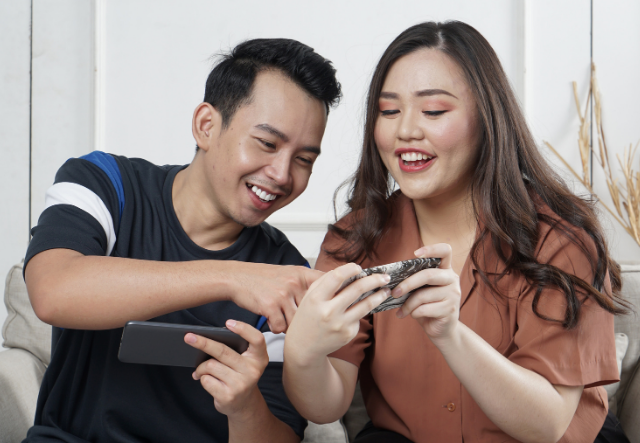 Buying your first home is unquestionably one of the major life events that you will remember for your entire life. If it were a recipe, it would include equal parts excitement, nervousness and independence. For that reason, it's incredibly important to be sure to do your research before you get started.
7+ Surprising Tips I Wish I Knew As A First-Time Home Buyer
1. Scope Out The Neighbourhood
Ah, finally a place to call your own. In a neighbourhood you… love?
Purchasing a home is a decision that will affect your day-to-day life for years to come. Take your time to research different areas of town you're interested in, then narrow it down to neighbourhoods you could really see yourself in.
Do a grocery shop at their local supermarket, go for a coffee at one of their cafes or take a walk through some of the neighbourhood's outdoor spaces. Do your best to get a feel for the area and consider whether the amenities that are most important to you are available.
2. Make a Wish List
Buying a new home is a big step, so why not take a few minutes to dream? Sit down and write out a Wish List of features that you hope to find in your new home.
Wish List items may include:
Quartz countertops
A tiled shower
An electric fireplace
A big backyard
A front porch
A bonus room
Ample storage in the kitchen
Whatever it is, take a few moments to really think about what matters the most to you in a new home and keep those in mind when searching for your first home.
3. Mind Your Credit Score
On the journey to purchasing your first home, ensuring your credit score is in good standing is one of the most important first time home buyer tips to manage.
When it comes to getting approved for a mortgage, a stronger credit score will earn you a more favourable – ie: lower – mortgage rate. The inverse is also true; a lower credit score will demand a higher interest rate.
Not sure where you stand? Download the Mogo app to easily find your credit score and receive ongoing updates via email on improvements and drops.
Could your credit score use some work?
Clear Your Debts. Prioritize clearing any outstanding debts sent to collections immediately
Set Up Pre-Authorized Payments. Consider setting up pre-authorized transfers from your chequing account on to your credit cards or loans
Lower Your Utilization Ratio. Make a plan to pay all of your outstanding debts to below 65% utilization (ie: if you have an outstanding $3,000 credit card, pay it down to below $2,000 immediately).
No New Credit. Avoid applying for any new credit for 3 months before your mortgage application as credit enquiries temporarily lower your credit score.
4. Research Incentives and Programs
The Beatles might have been on to something when they famously proclaimed that they "get by with a little help from [their] friends."
In Canada, as with many other countries, the housing market is an important consideration in the country's overall economic climate. Often times, the government will incentivize home buying by providing cash rebates or creating home buyer purchase programs.
These programs can often make a significant difference in how your home is financed and even how much you end up paying.
While preparing to buy your first home, take your time to research the current programs available and determine whether you qualify or not.
Some first time home buyer incentives and programs to consider include:
First-Time Buyer Incentive. This program eases the financial burden for first-timers by reducing monthly mortgage carrying costs. If you qualify, the Government of Canada shares the property value.
First-Time Home Buyers (FTBH) Tax Credit. This program was introduced in 2009 and provides qualified homebuyers with a $5,000 non-refundable income tax credit to buy a home that also qualifies.
Home Buyer's Plan. If you've retired, you can choose this program and withdraw up to $25,000 from your registered savings plan (RRSPs) within a calendar year. You're free to buy or build your home.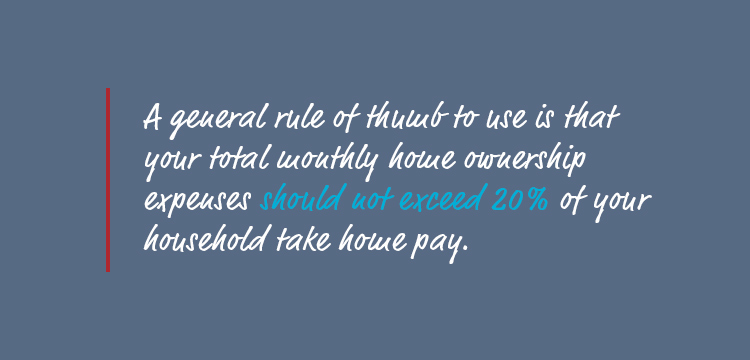 5. Set A Budget
Hunting for your first home is a new and exciting experience and it's very easy to get caught with stars in your eyes. Before you begin considering homes, take a realistic look at your earnings, your current expenses and what you can comfortably afford in terms of homeownership.
While your mortgage payment will undoubtedly make up the majority of your homeownership expenses, it's important to realize that the costs of homeownership don't end there.
The ongoing costs of owning a home can include:
Home insurance
Property taxes
Community league dues
Homeowner's Association (HOA) or condo fees
In fact, in most cases, your mortgage lender will factor these expenses in when determining how much mortgage to approve you for. A general rule of thumb is that your total monthly homeownership expenses should not exceed 20% of your household take home pay.
Depending on what is included in the home you buy, you may also need to consider the expense of paying for final grade, grass and landscaping, a deck and a garage.
6. Choose The Right Model
Yet another sage piece of advice for buying your first home is to understand the importance of taking your time to weigh the pros and cons of each style of home.
The 4 most commonly purchased styles of homes include:
Some styles of homes may include condo fees while others may not. With duplex and townhome models, you share a wall with your neighbour. While it may seem like the differences are obvious, there may be more to consider than you had previously thought. At Lincolnberg, our helpful Sales team brings years of experience to the table and can provide some very valuable information that can help you make your decision.
7. Choose A Home Builder
When it comes to purchasing a new home for the first time, the home builder you choose matters. Take time to visit a few different Presentation Centres and Show Homes. While you're there, ask them not only about the models you're considering, but about their company as a whole.
What is their relationship like with their contractors? How long have they been in business? Do they hold any industry recognitions such as Master Builder? Read a few online reviews.
Related: What Does It Mean To Be a Master Builder?
Ask the sales person why they think you should choose them as a home builder.
More Home Buying Advice
7+ Helpful Tips for Selling Your Home When You Have Pets
Lincolnberg Master Builder has been proudly building homes in Edmonton and area for over 41+ years. Learn more about us or browse our home models today.