Last Updated on February 24, 2021
Keep Track Of Winter Home Maintenance With Our Free Checklist
This easy-to-follow printable Winter Home Maintenance Checklist is the essential guide for homeowners. Learn from our expert team of home builders as they share their essential spring home maintenance tips perfect for homes in Canada.
As we head into spring, it's incredibly important that we do regular maintenance on our homes to ensure that the harshness of winter doesn't cause any irreparable damage. We have a list of items for all the winter maintenance you might need to keep your home as prepared as possible for changing seasons.
1. Check Your Carbon Monoxide and Smoke Detectors
Test that your batteries are charged using the "test" button, and change your batteries when required. Try to check your detector monthly. It is recommended that you always keep a double power source (for example, plugged into the wall and fully charged batteries) so that your detector has the fallback power to keep you and your family safe.
2. Check For Condensation and Humidity
Check all your windows, mirrors, and vertical glass surfaces for condensation. If there is a buildup of moisture and water vapour in your home, use a dehumidifier. If you notice increased static electricity, dry skin, chapped lips, your humidity levels are too low. Increase the relative humidity with your humidifier. Balancing humidity levels in the home is best for the house as it maintains longevity of drywall, window sealant, hardwood floors, and many other aspects of the home that are pricey to fix, and it is also best for your health as proper humidity can help with skin health, sleep, and dehydration.
3. Check Roof for Ice Dams
An ice dam is a ridge of ice that forms to prevent runoff from draining from the roof, causing a pool of water to sit on your roof for extended periods of time. Ice dams occur in Edmonton because of the frequency of warmer daytime temperatures and freezing at night. This freeze-thaw period can last anywhere from a couple weeks to multiple months. Ice dams, if not maintained, can cause severe damage to your roof and eavestroughs. To reduce the likelihood of ice dams, clear snow off the roof, particularly around the eaves, attic, and bathroom and kitchen vents.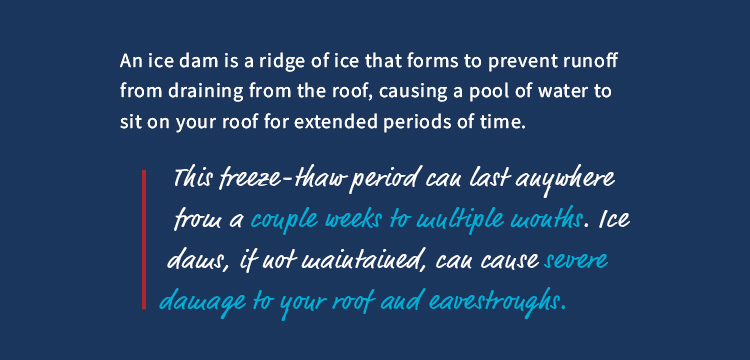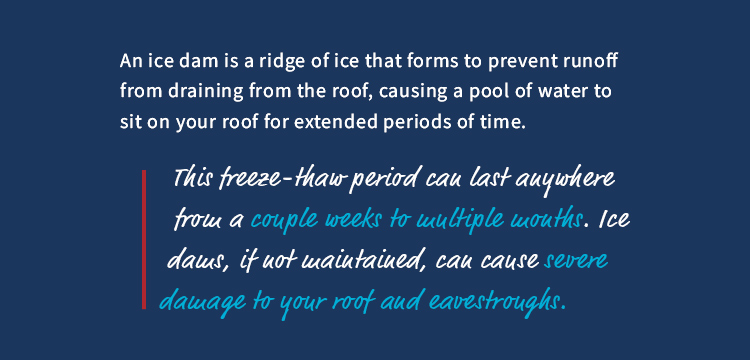 4. Clean Range Hood and Over The Range Microwave Filters
It's important to check all your oven filtration monthly because grease and fats build up as you cook. Talking the filters out regularly to clean the grease off (and cleaning the grease around the range) will help your fan work more efficiently and keep grease out of your air.
5. Clean Your Humidifier
This is important as mineral deposits can build up and cause damage or clog the humidifier. To clean your humidifier, a number of anti-scaling products can be used to simplify the cleaning process. You can purchase a sealer from any of the major home improvement stores. Relative humidity level should be set to around 20 per cent.
6. Clean Your Furnace Filter
A dirty or clogged furnace filter can limit air flow from the furnace to the ducts. Inspect and clean or replace the furnace air filter at the beginning of the heating season and on a regular basis throughout the winter months.
7. Balance Air Flow Around Your Vents
Each heat register in your home has a damper. If an area of your home is too cool or too warm, you can adjust the dampers to reduce or increase the airflow into the area. This is known as balancing your system and is especially important for registers located near your home's thermostat.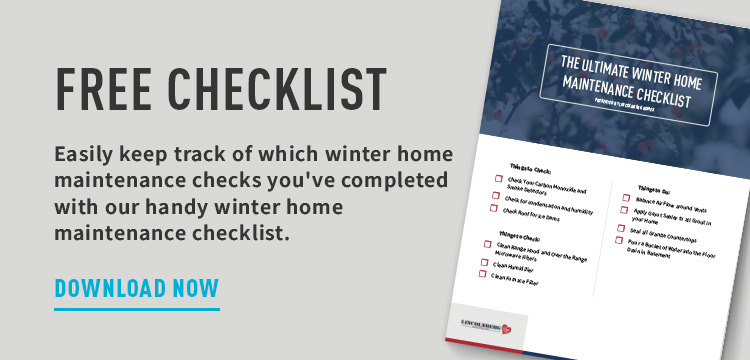 8. Apply Grout Sealer To All Grout In Your Home
Grout is a naturally porous material and if not sealed it will begin to discolour over time. As you live life the sealant will start to wear down, so it's important to reseal your grout every other year or so. You can purchase a sealer from any of the major home improvement stores.
9. Seal All Granite Countertops
Just like grout, your granite countertop is porous. To avoid damage or staining your countertop, sealing is recommended twice a year. You can purchase a sealer from any of the major home improvement stores.
10. Flush Your Basement's Floor Drain
This practice creates a water seal and prevents sewer gas from entering your home. Over time the water in the drain will evaporate, so in order to keep your home smelling fresh it should be a regular practice to add water to the floor drain and ensure there is always water in the pipe.
Are you ready to complete your winter maintenance? Download our free checklist today!
More Home Maintenance Tips

The Ultimate Spring Home Maintenance Checklist [PDF]
The Ultimate Fall Home Maintenance Checklist [PDF]
Lincolnberg Master Builder has been building new Edmonton homes for over 41+ years. Learn more about us, visit one of our Edmonton and area show homes or explore quick possession homes today.