Last Updated on January 22, 2021
So, you've made the decision to buy your own home.
You may be wondering how long it takes to buy a house. Does the process in Canada differ from other locales?
From start to finish, how long does it take to buy a home and move in?
All in, the home buying process usually takes about 3 months, but because home buying is so versatile, it can range from as fast as 2 months to as long as 6 months. If you decide to build a home, you can tack on 6 to 10 months for planning, construction and finishing to that timeline.
This is important to know especially if you're renting, as you may have to consider renewing a lease, and if you already own, you'll have to begin the process of figuring out what to do with your old house. 
Below are the steps required to purchase a home, and an estimated timeline associated with each step.
However, these steps do not include the amount of time it takes to save for a downpayment.
Check out this blog on some steps to save for a down payment, which can take anywhere from 6 months to 2 years.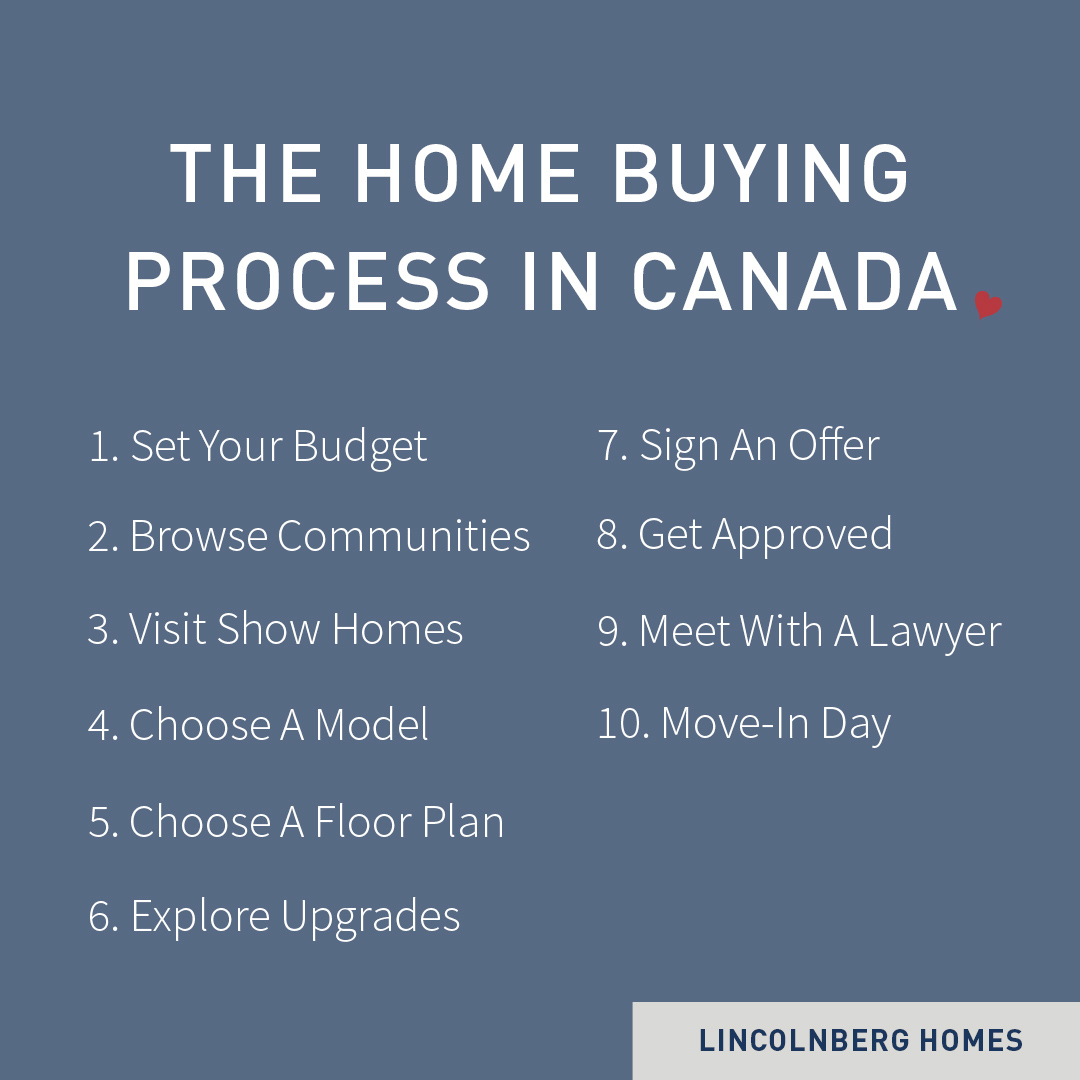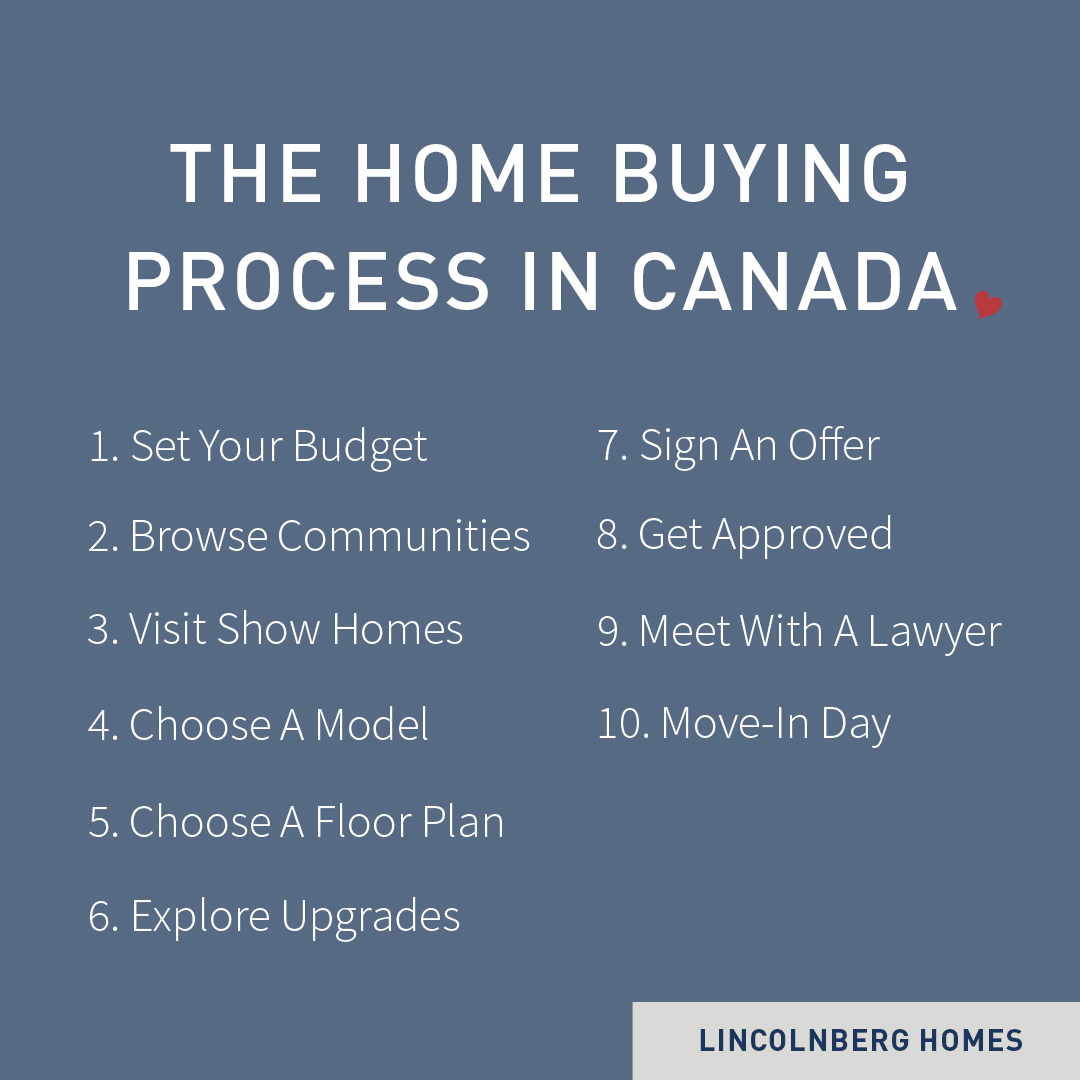 Step 1: Figure out how much you can afford
Before you start looking at paint colours and garden swings, you first need to figure out how much you can afford on a house. A well-known rule of thumb to follow is the 28/36 rule.
This rule is that you should try to avoid spending more than 28% of your take-home income on a mortgage, and that your overall debt payments should not exceed 36%. So, if your family's take-home income sits around $6000, your mortgage payments shouldn't exceed $1680, and your other depts should should not exceed $480.
This is a guide for payments, but in order to figure out what kind of mortgage size you can afford, try the Lincolnberg Affordability Calculator to see what size of mortgage you will likely be pre-approved for (and you'll be automatically sent to pages of Lincolnberg homes you can afford to help get you excited).
This process should only take a couple answers as you're just doing a self-audit and estimate using our handy calculator!
Step 2: Browse different communities
Maybe take a couple of days to drive around Edmonton and peruse all the different communities.
Then, you can do some research into school systems, amenities, and other great factors that come with each potential community.
If you know the builder you want, you can find the specific communities they build in, such as Lincolnberg's community page. If you're not sure what builder you'd like, you should definitely spend some time researching what area of the city you'd like to live in, and the different communities available in that area.
Visiting in-person is very important for all people looking to buy a new home, as you'll get a better feel for the community and decide if you jive with the vibe.
Step 3: Visit show homes
Once you've picked your community, you can take a couple of days to visit show homes, either of your preferred builder like the ones seen on Lincolnberg's site, or you can go to the community's show home parade to see all the different kinds of homes available to build in that community.
If you're looking to buy a quick possession rather than build a custom one, you can also take that time to go look at the exact home you may be purchasing. Why not take a peek at Lincolnberg's current available quick possession homes?
Of course, if you're not in the market for a brand new home, you would want to arrange time with a real estate agent to view houses in your preferred community that are for sale.
Step 4: Choose your model type
There are plenty of different styles to choose from, and the main three are a townhouse, duplex, or single family home.
All three come at different price points, but other factors to consider are number of bathrooms, number of bedrooms, kitchen size, whether you want an attached or detached garage, a willingness to share walls with neighbours, etc.
It's important to allocate a couple of days to consider all the options before you head out to buy a house. You can get started by perusing your options on our model webpage.
Step 5: Choose your floor plan
This step can take anywhere from a couple of hours to several months (it usually takes longer if you're going with the pre-owned homes, as finding the best fit is not a quick ordeal).
If you're going with a newly built home, usually you can choose between the available models available in your community of choice rather quickly, a week or so, and quick possessions are one of the fastest choices, as there's usually only a couple to choose from in each community.
For the new-build route, you want to look at each available floor plan and decide what would work and feel like a good fit for your family.
If you've chosen a builder, they will often be able to arrange a time for you to visit a home with the floorplan you like from one of their happy customers!
Step 6: Discuss options and upgrades you want to be included in the mortgage
Get inspired by binging on your favourite HGTV home reso series or scroll through home designs on Pinterest or Houzz. If you are purchasing a new home, find out what comes standard, so that you know if you want to upgrade or add anything and, finally, set a budget for extras.
At Lincolnberg, we offer two visits to our Design Studio to help you through this exciting process. On the first visit, a design or home expert will guide the home buyer through all of the different finishes that need to be selected and show them all of the colours and styles that the home builder offers to choose from. The home buyers choose the finishes they love and the design expert prices them out. Then, it's time to sleep on it. The second visit is when you will make your final selection. Learn more about the home selection process on our Essential Guide to Visiting A New Home Design Centre blog.
Step 6: Sign an offer to purchase
Once you've chosen your home, whether that's a pre-owned home, a quick possession, or a model for a custom home, it's time to write an offer to purchase.
The owner of the home/lot will consider your offer and get back to you, this can take anywhere from a couple of hours to a couple of days, but rarely would you be left hanging more than about three days. 
Step 7: Get approved through one of Lincolnberg's approved lenders
There are benefits to choosing both a mortgage broker or a bank, so you will have to decide what is best for you.
Mortgage brokers give you the ability to consult a party that is separate from your bank, potentially helping you feel more comfortable you're getting the best deal, and banks allow you to keep everything in a single institution that can be easier for record-keeping.
It is a good idea to allocate two or three days of research into whether you want a bank or mortgage broker to handle your mortgage, and where to go. We suggest connecting with any of Lincolnberg's Area Managers for recommendations on Mortgage Lenders to consider. We work with some of the best in the industry and will match you with a lender best suited to your financial needs!
Step 8: Meet with a lawyer and sign the papers
As will all major purchases, you will want a lawyer to draft up the paperwork for both your mortgage and bill of sale. When hundreds of thousands of dollars are at stake, it's important to leave this to a lawyer. When you purchase with Lincolnberg, we hook you up with our lawyer and cover your fee.
You will also want to come up with an escrow deal and any conditions for building the home (such as conditional inspections and warranties that are tied to the bill of sale). This can take a month or two to get everything ready to close.
Step 9: Move-in
If you've purchased a pre-owned or quick possession home, this date immediately follows the ending of escrow. However, if you're building a new home, it will take 6 to 10 months from when the contract has been signed. 
Buying a new home can take some time, so it's important to know how long the process is as you plan your current living arrangements around finding your future living arrangements. All in, you're looking at 2 to 6 months of time to find and purchase your new home, and 6 to 10 months to build a new home.